August 7, 2023 
Patricia Manarang 
No Comments
New biocontrol agent production model to fight fall armyworm in Bangladesh
The state of BCA use in Bangladesh
The use of biological control agents (BCAs) to manage pests is a concept not yet fully embraced by farmers. This is especially true in Bangladesh, where the invasive pest, fall armyworm (Spodoptera frugiperda), has affected many crops. First seen in Bangladesh in November 2018, fall armyworm causes harvest loss and economic damage. Fall armyworm infestations have impacted one of Bangladesh's most important crops, maize. Maize is one of the country's top three major crops, making these infestations particularly devastating.
Using biological control, or biocontrol, is a viable way to control these pests, as it is environmentally friendly and safe for humans. It is a good way to manage fall armyworm if the proper systems are enforced. Although biocontrol research and product development has progressed in the country, their uptake and usage are still lacking.
The main reasons for this are the inaccessibility of bioprotection products and questions about their efficiency. Farmers do not completely understand their use, applications, and methods. Additionally, their high costs, local unavailability, and burdensome regulations make them unappealing to invest in. Another big issue is that there aren't enough existing distribution networks. As a result, farmers have become more dependent on the use of chemicals for fall armyworm management. BCA production is also currently done through a singular business model. This can be limiting to BCA production and usage. 
Current BCA production model and how it can be improved
In Bangladesh, private enterprises are in charge of the production of bioprotection products and also their distribution through dealers. The dealers, usually agro-dealers or individual enterprises, market the biopesticides. Extension agents are also tapped to promote the BCAs to the farmers. This linear business model has been established with BCA production centralized in only one location. The problem with this setup is that the BCAs with short shelf lives cannot reach farmers in farther places. On a structural level, this BCA production model is also problematic as it uses a one-way communication system. Consumers and customers are unable to relay their concerns and feedback back to the enterprises.
This brings up the need for a new model that maximizes BCA production and where contributors can work together. To devise this model, a CABI-led study gathered information. The study, published last year, looked at BCA production and use in Bangladesh through key informant interviews and focus group discussions with relevant people and organizations. The results determined what problems farmers have with BCAs and how BCA production could be revamped to attract them.
Problems caused by the existing BCA production model
The researchers asked different stakeholders about their BCA usage. Agro-dealers in maize-growing locations stated that there is no BCA demand. They said that there is a lack of awareness on the part of the farmers of BCAs and related products. Hence, all the interviewed agro-dealers supply chemical products, while only half stock bioprotection products that manage fall armyworm infestations. This half stated that they can only carry two types of these products due to unavailability and supply inconsistency of others.
The team also asked six farmer-producer organizations (FPOs) about their use of BCAs. The interviews revealed that BCAs ranked low among pest management practices commonly used by farmers. Nevertheless, they stated that half of their constituents were at least aware of BCAs, and 60% of that half are BCA users. This shows that those aware of BCAs and their benefits do tend to use them.
They also identified BCA unavailability in the market as the biggest problem, a result of the current BCA production system. The FPOs further explained that limited farmer knowledge, lack of subsidies, and preference for chemicals were also reasons for low uptake.
Despite this, 67% of FPOs said that their members are willing to pay for BCAs to combat fall armyworm infestations. Findings also state that BCAs priced from BDT 2,000-5,000 (USD 18-45) per hectare are viewed as an ideal price range. This is because anything priced lower is seen as low-quality and anything higher is too expensive.
Proposed solution and improved model for BCA production
This study proposes a solution that utilizes a circular business model, promoting collaboration and sustainability. This non-linear business model involves the participation of four stakeholder groups. At its core, it builds capacity and fosters mentorship between the stakeholders. This creates a support system and allows for the cross-sharing of information and material between each level, improving BCA production.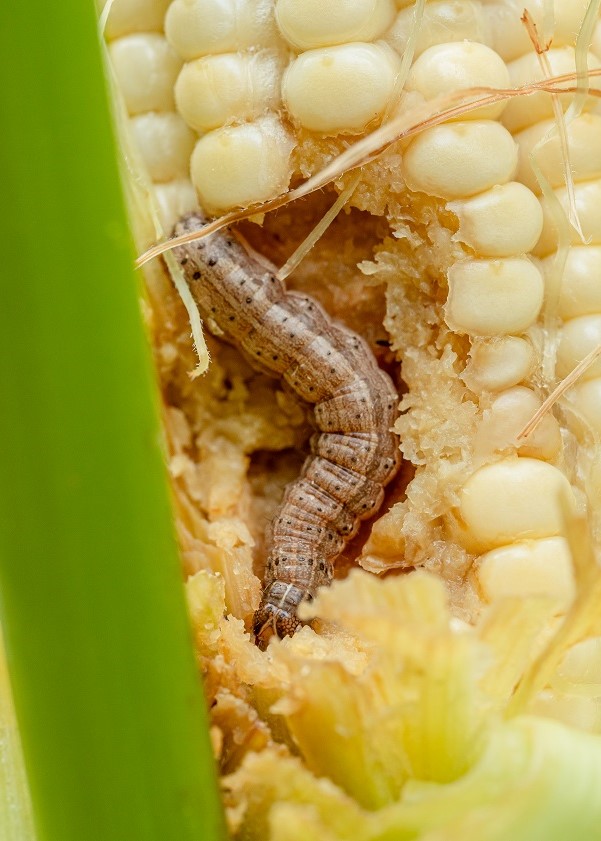 The first group is the Bangladesh Agricultural Research Institute (BARI), tasked with capacity building for nucleus culture production. BARI is the largest research institute under the National Agricultural Research System (NARS) and conducts various experiments on agriculture. Their role is to maintain bioassays and trials aimed to improve culture strains. To ensure the integrity of the strain of BCAs produced at farm level, it would be necessary for BARI to test the product from time to time.
The second stakeholders are the regional research centres and extension agents. These scientists will be trained over five years through academic and process-oriented training. In turn, they will train farmers to use the BCAs and how BCA production works. They will also provide starter culture to farmers to assist in production and keep the integrity of the strain.
The third group is the agro-dealers, who provide particulars on fall armyworm management, BCA inputs, and complementary products. They can share information on different products with farmers through different educational materials. Moreover, they could redirect farmers to other sources of BCAs if they themselves cannot provide them. Especially if they did stock complementary products.
Lastly, the fourth group is the FPOs. In Bangladesh, these FPOs are well-established and trained in pest management. In the proposed model, farm entrepreneurs and women's groups will own and operate local BCA production hubs, making it easier to meet demand. The farm entrepreneurs and women's groups who manage the local BCA production units must be affiliated with FPOs to ensure customers. FPOs will also handle awareness creation of BCA production and effectiveness, and guarantee nucleus cultures to the farmers.  
What does this business model need in order to operate?
To finance this model, the study estimates that USD 500,000 in capital costs is needed to house 250 million Trichogramma sp. Using this specific BCA for fall armyworm management is effective, as seen in cases in Latin America and Africa. The specific costs required are for laboratory space, culture mass-rearing chambers, chemicals needed in BCA production, and other materials. Plus, annual costs for training, support for production, and dissemination. In addition to the costs for field trials to determine the effectiveness of the BCAs will also be part of the budget.
Aside from this money, long-term financial and technical support, research on sustainability, and policies for incentives can operationalize this model. Further research is also needed to determine if BCA production becomes viable through this method.
PlantwisePlus has partnered with BARI to strengthen the regional production of Trichogramma in Bangladesh. Since 2022, CABI scientists have been supporting local stakeholders in the set-up of a rearing facility at the regional centre and increasing capacity at HQ level.
The Trichogramma rearing facility will supply the parasitoid to farmers for the management of various pests, including brinjal fruit and shoot borer, as well as fall armyworm.
Read the full paper:
Kadzamira, M.A.T.J., Chaudhary, M., Williams, F. et al. A non-linear approach to the establishment of local biological control agent production units: a case study of fall armyworm in Bangladesh. CABI Agric Biosci 3, 48 (2022). https://doi.org/10.1186/s43170-022-00115-5
The study was funded as part of CABIs global Action on Invasives programme and by the CABI Development Fund (CDF). Action on Invasives was supported by the UK Foreign, Commonwealth and Development Office (FCDO) and the Netherlands Directorate General for International Cooperation (DGIS).
---
Useful resources
CABI's Fall armyworm portal
The CABI BioProtection Portal is the largest global database of biological plant protection products
PlantwisePlus Knowledge Bank for open access practical plant health information
Read more
New research proposes local Biological Control Agent hubs to fight fall armyworm in Bangladesh
Horizon scanning and pest risk analysis of prioritized pests in Bangladesh
PlantwisePlus boosts crop health in Bangladesh
Coordinating body urgently needed to help improve Bangladesh's invasive alien species system
Fostering collaborations for utilizing and promoting biocontrol agents to fight fall armyworm in Bangladesh
Conserving biodiversity: biocontrol for sustainable agriculture
Bangladesh, Fall armyworm, biocontrol, pesticide risk reduction